Yesterday, the Australian Skills Quality Authority (ASQA) released its strategic review into international education, entitled Protecting the quality of international VET and English language education, which documents the explosive growth in international student enrolments along with a number of shortcomings in the tertiary education system.
First, the report notes the explosive growth in international students numbers across the various tertiary sectors, which has been concentrated in Sydney and Melbourne:
In 2018, there were more than 875,000 enrolments generated by almost 700,000 full-fee paying overseas students in Australia, across all education sectors. This represents a 10 per cent increase on 2017 and compares with an average annual enrolment growth rate of almost 11 per cent annually over the preceding five years. The majority of overseas students were enrolled in higher education courses, with China and India the top two source countries.

Overseas student growth has been strongest in the higher education and VET sectors in recent years, as shown by Figure 5. The largest volume of enrolments and commencements in 2018 were in higher education (45 per cent and 34 per cent, respectively) followed by VET (30 per cent and 30 per cent), ELICOS (18 per cent and 24 per cent) and the non-award sector (six per cent and eight per cent)…

The distribution of overseas students, and resulting economic activity, is concentrated in New South Wales which recorded 38 per cent of enrolments, followed by Victoria with 32 per cent… In 2018, 97 per cent of overseas students studied in a major city with the majority of these students studying in Sydney and Melbourne…

The fastest growing market for VET in 2018 was Nepal, with a 108 per cent growth rate from 2017. Myanmar was the next fastest growing market with a 58 per cent growth rate, followed by Mongolia (52 per cent) and Sri Lanka (50 per cent). Figure 7 shows the fastest growing source countries for the VET sector in 2018…
As shown above, growth in the VET sector has been driven by Nepal, who are also Australia's third biggest international student source and the fastest growing, according to the Department of Home Affairs: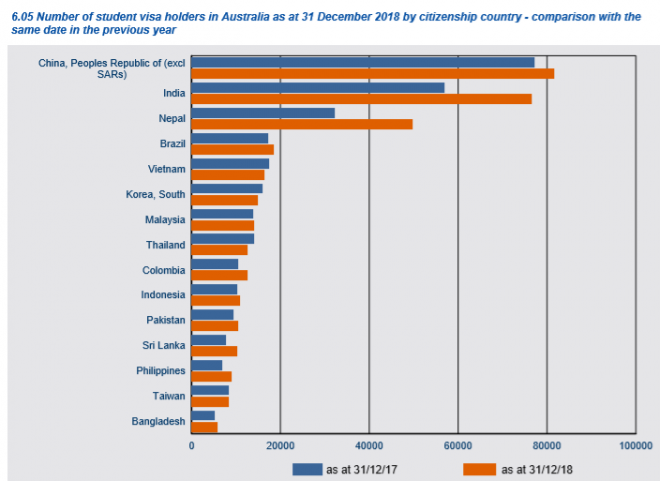 Inside Story's economics correspondent, Tim Colebatch, recently warned that the flood of lower quality Nepalese students into Australia is degrading education standards:
…one source stands out: the little Himalayan country of Nepal, just thirty million people, living in one of Asia's poorest countries.

In 2017–18, one in every 1500 inhabitants of Nepal emigrated to Australia. In an era of strict immigration controls, that is an astonishing number for two countries so far apart, with no common language, heritage or ethnicity.

Over the five years to mid 2018, one in every 500 Nepalis emigrated to Australia — and that's in net terms, after deducting those who returned. In 2017–18, little Nepal became Australia's third largest source of migrants after India and China…

Deregulation has allowed universities to selectively lower their standards to bring in more fee-paying foreign students, even when they fail to meet the thresholds for English language skills or academic achievement…

This is not the first time immigration from Nepal has surged. A decade ago, we saw a scam with training visas, in which "students" from India and Nepal came for training courses in Australia, then quickly vanished into the workforce. The scam saw net immigration set record levels in 2008–09, before then immigration minister Chris Evans shut it down. But most of those who came stayed on here.

At the current pace of immigration, Australia will soon have more residents born in Nepal than in Greece.
Next, the ASQA report warns that international students are especially vulnerable to "being misinformed, misled and, in the worst circumstances, open to exploitation" by dodgy and unregulated education agents, who accounted for around three-quarters of international student enrolments in 2017:
Education agents are an integral part of Australia's overseas education sector. They represent education providers to students and advise prospective students on courses of study available to them in all education sectors.

There is no legal requirement under Australian law for providers or overseas students to engage an agent, but most do—agents facilitated almost 74 per cent of the total overseas student enrolments in 2017..

ASQA does not regulate migration agents or education agents. Unlike migration agents (onshore), education agents are a non-regulated sector and there are no official registration processes for becoming an education agent…

The drivers of this student demand are complex and relate to a range of interrelated factors, including the ability to work in Australia while undertaking study and post-graduation. Australia's post-study work rights, and its work-rights settings, remain competitive.

The desire to pursue paid employment opportunities, even in breach of their visa conditions, is likely to motivate some students and introduces the risk that some providers and agents will seek to exploit this demand and recruit these overseas students using misleading and unethical practices.

Overseas students rely heavily on the assistance of education agents when making decisions and can lack reliable information to hold their providers and education agents to account. This dependence makes overseas students vulnerable to being misinformed, misled and, in the worst circumstances, open to exploitation by their providers, education agents and other third parties, such as employers.

… there are ongoing concerns expressed by some stakeholders and commentators about the quality and integrity of VET and ELICOS courses, especially where students are not properly engaged and participating in their study.

Many of these concerns centre on the potential for collusive activity between some providers, education agents and those students who seek to enter Australia for paid employment, rather than to engage in study. These practices can be difficult for regulators to detect, given that the parties involved are unlikely to make complaints to the Australian Skills Quality Authority (ASQA) or other government agencies…

Many education agents operate from foreign countries. There is no government regulatory oversight of education agents, and the quality of the services provided by agents is reliant on individual providers systematically monitoring the practices of their agents. This lack of oversight can make overseas students vulnerable to poor practices, including misleading marketing and advertising, by providers and agents that deliberately evade their obligations.

Some overseas students may also come under financial pressure once they are in Australia and find themselves in situations where they work more hours than they are entitled to under their student visa conditions. All overseas students who breach their student visa conditions, regardless of their intentions or motivations, can find themselves open to exploitation by unscrupulous providers, agents and employers…

It is these persistent concerns that led ASQA to identify delivery of VET and ELICOS courses to international students as a systemic risk…

There are risk factors specific to the overseas student sector, particularly in the VET sector, that can lead to poor provider behaviour. While many providers may display these risk factors and still operate effectively and reputably, ASQA did find that some providers deliberately avoid compliance and adopt poor practices…
ASQA also singled-out "ghost colleges" that enrol overseas students but do not ­require class attendance:
Regulatory activities conducted on some providers as part of the strategic review, and in ASQA's wider regulatory work, identified one particular concern relating to overseas student class attendance. Investigation of this issue has found several instances of providers who are not requiring overseas students to attend scheduled classes, but who are still determining that these students are progressing in their course.

Overseas students are required to be enrolled in a full-time registered course to meet the study requirements of the student visa program…
Finally, ASQA indentified instances of institutions recruiting students with poor English proficiency in order to boost student numbers and revenue:
In conducting its regulatory activities, ASQA found instances of students who were enrolled in VET courses where their English language capabilities were limited.

In one example, the student, who was interviewed during a site visit of a provider, had to use non-verbal gestures to articulate basic statements and requested others to translate so the student could respond to questions. In this example, the student had been enrolled in a business qualification for more than 12 months, having been accepted with an English test type of 'other form of testing which satisfies the institution'. It is clear this student did not have an appropriate level of English language capability either on enrolment or developed during study…

While the obligations are on the provider to ensure students have a sufficient level of English to complete the course they seek to enrol in, there is an opportunity for poor-quality providers to overlook limited English capability when enrolling a student to maximise their student enrolments inappropriately.
While ASQA claims the international student industry is operating reasonably well overall, these are definite holes in the system in dire need of improvement.
SOURCEAAP:https://www.macrobusiness.com.au/2019/08/regulator-international-students-vulnerable-dodgy-education-agents/