Last week, Former High Court justice, Ian Callinan, claimed the surge in bridging visa applications to the Administrative Appeals Tribunal (AAT) was being fuelled by organised criminals using so-called "ghost colleges" offering "fake vocational training prog­rams":
[Former High Court justice Ian Callinan] said "almost everyone" with migration law experience had told him there were applic­ants and representatives who "game the system, well knowing there is an automatic entitlement to a bridging visa".

The Australian Skills Quality Authority told Mr Callinan that delays had repercussions beyond the AAT. It told him it was aware that organised crimin­als were sometimes, "perhaps even regularly", benefiting from fake vocational training prog­rams or "ghost'' colleges…

The AAT now handles about 59,000 lodgements a year: more than half (52 per cent) are migra­tion and refugee cases…
Yesterday, the national representative body for vocational education – the Independent Tertiary Education Council of Australia (ITECA) – rejected Justice Callinan's claims:
In his review, Mr Callinan… said that in his meeting with ASQA's acting head, she had cited so-called "ghost colleges" for international students as an ­example of organised crime's involvement in the vocational training industry.

He said she had discussed with him the fact that these colleges were "little more than addresses operated by people who provided no real training or tuition".

"Their 'students' were not bona fide students. Often the so-called provider would find a job for the foreign entrant, charging commissions to both the employer and the so-called 'student employee', and arrange, again at cost, the transmission of funds to the 'student's' home country," Mr Callinan wrote in his review…

"To make such a bold comment is disconcerting as, in recent times, ASQA has failed to even intimate this privately to ITECA," said Troy Williams, head of the Independent Tertiary Education Council of Australia, which represents nearly 500 vocational education and training providers…
This isn't the first time these concerns have been aired. In February, Dr Bob Birrell from the Australian Population Research Institute accused private 'ghost' colleges of opening 'shopfronts' in Melbourne offering cheap business and IT courses that provide the minimum requirements for a skilled visa application, aimed primarily at students from India's Sub-continent:
"It has little to do with the excellence of the education that's offered here," he said. "It seems to be effectively selling access to jobs and ­permanent residence."

Home Affairs Department figures show Indians are the biggest applicants of the 485 student visa… Many Indian students afterwards apply for permanent residency, with more than 4000 given skilled independent visas onshore in 2016-17…
Indeed, the explosion in graduate (485) visas has been driven by Indians, whose application numbers exploded by 37% in 2H 2018, dwarfing applications from other nations: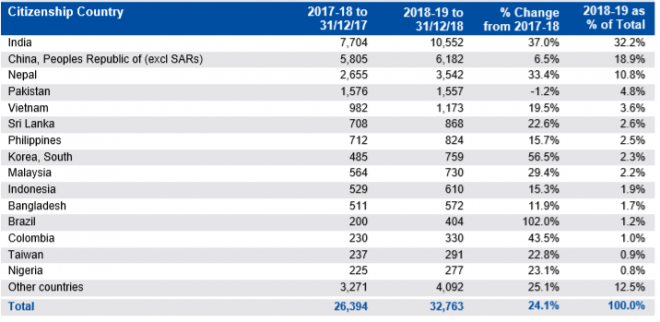 This type of rorting was recently exposed in the ACT, where private colleges proliferated providing international students, primarily from the Indian sub-continent, with the necessary points to qualify for permanent residency under the Territory's relaxed migration scheme:
In the 12 months after the eligibility criteria was relaxed, colleges reported an explosion in enrolments… If a potential migrant's occupation was not on the list of in-demand jobs, they could apply by proving a close connection to Canberra. This included living in the ACT for at least 12 months and studying a Certificate III or higher qualification at a local institution…

"When the subclass 190 visa popped up, the students started streaming in," Min Gurung, marketing and sales manager from JP International College, in Mawson said. The college experienced an increase of 300-400 students in the past year, with many students moving to the ACT with their partners and young families…

Unity College in Belconnen experienced an almost two-fold increase in its student numbers to about 50…

Some operators of the colleges are reluctant to speak out, with one reporting his institution had about 100 students before July last year. In the past year, that number grew to about 300 students…

It's believed up to eight colleges have opened in the past year and more applications could be in the works…
It is also worth pointing out that we experienced the very same shenanigans a decade ago. From August 2009:
In 2002 there was just over 11,000 Indian students in Australia, and by 2005 this number had grown to over 27,000… However, by last year enrolments had grown even more rapidly up to nearly 100,00 students, and most of the growth was in private vocational colleges where enrolments of Indian students increased at a startling rate, from 2,600 to 47,400 in three years…

Up until around 2005 most Indian students seeking permanent residency in Australia undertook masters programs, usually in information technology and accounting…

In 2004-05 three quarters Indian students graduating from Australian university programs obtained permanent residency.

The only problem with this had been that many international graduates in these areas of migration demand were not subsequently employed in the fields for which they had studied. Migration requirements were tightened to mandate higher levels of English proficiency and professional experience, and these had the effect of dampening demand somewhat for some university programs…

Private colleges responded quickly be developing new cooking and hairdressing programs that would give students enough points to get through. Some private colleges are very high quality institutions with a wide range of programs for local and international students, but there are low quality providers who cater almost exclusively to international students seeking fast and easy qualifications to support migration applications. By last year, 14,400 Indian students were studying in private colleges in programs grouped under the 'food, hospitality and personal services' classification, accounting more than a quarter of all students in these programs.

For several years many in the Australian international education industry have been warning that the rapid growth of private colleges providers focused on migration pathway programs posed serious threats to vulnerable students, who were sometimes willing to pay hefty fees and tolerate poor facilities and teaching in return for a piece of paper that would assist them to gain residency. There was also a concern that the actions of these colleges could bring the entire Australian education system into disrepute internationally…
History doesn't repeat but it sure does rhyme. Back then, like now, private colleges have acted as 'middle-men' for Australia's immigration system, clipping the ticket on those seeking to use student visas as a backdoor for gaining permanent residency.
And judging by their explosive growth, the Indian cohort remains both the key user and victim in this broken system.
SOURCEAAP:https://www.macrobusiness.com.au/2019/07/private-ghost-colleges-honeypot-indian-international-students/