The woman who appears on track to be Australia's next education minister has delivered a stark warning to universities, declaring a major funding boost comes with an expectation that the sector prioritises the national interest and does not allow the international student boom to damage educational standards.
Deputy Labor leader Tanya Plibersek said the party intends to deliver "transformative" changes to universities and vocational education and training, but she hosed down renewed calls for the sectors to be brought under one national system.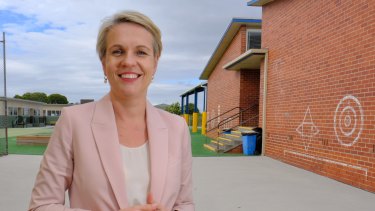 Deputy Labor leader and education spokeswoman Tanya Plibersek.
CREDIT:
LUIS ENRIQUE ASCUI
"We are prepared to uncap places again. It's a $10 billion investment over the decade. And what we want in return is for universities to consider the interests of their local communities and the national interest when they are making decisions about how they expand, how they attract students, the sort of educational offering they make," she said in an interview with The Sydney Morning Herald and The Age.
Ms Plibersek said reports of "students being passed with lower than you would expect English proficiency really affect the reputation of all Australian higher education providers".
"We need to be very vigilant about maintaining our standards because we don't want to rip people off, but also we don't want to develop a reputation as a hit and miss provider of university education," she said.
Australia has experienced explosive growth in international education over recent years — 14 per cent in 2018 — and it is now the nation's third-largest export. In 2018, about 400,000 foreign students were enrolled in Australian universities, pumping $34 billion into the economy.
The boom has led to concerns about foreign students being treated as cash cows, the impact on teaching standards, and potential complications stemming from the heavy reliance on Chinese students, who account for a third of international enrolments.
Ms Plibersek praised international education as an important export for Australia but cautioned that emerging competition from other countries, including China itself, underlined a need to diversify source countries.
Faced with repeated hits to government funding for research and domestic undergraduate education, many universities have become increasingly reliant on the lucrative revenue from international students.
With Labor widely tipped to win government on May 18, Ms Plibersek has flagged that new funding agreements with universities would outline certain expectations, including higher entry standards for teaching degrees and addressing sexual assault on campus.
"There's no notion that we just go back to an uncapped system and universities can just let rip," she said.
"The extra funding has to give us higher graduation rates, better university experience and meet the needs of our nation. It's a very serious investment of taxpayer funds and universities need to demonstrate the benefit of that investment."
The former Labor government uncapped places in 2012. The Coalition then froze demand-driven funding at the start of 2018 and has indicated it would be indexed to population growth from 2020.
A Labor government would initiate a comprehensive review of tertiary education in Australia, and Ms Plibersek said she wanted it to transform university and TAFE education, ensuring that both are performing, there is more flexible movement of students between the two and "more sensible" ways of paying for TAFE courses.
"The fact that universities will be funded on a demand-driven basis and TAFE is budget-funded and has the Commonwealth-state overlap has really meant that vocational education has suffered from the vicissitudes of government policy. It has been much more brutal on TAFE," she said.
While Ms Plibersek acknowledged some in the sector were calling for a single, nationally administed tertiary education system that takes charge of state-based TAFEs and said she wouldn't pre-empt the inquiry's findings, she is not yet convinced by the idea.
"I don't see a great advantage in having one united system, but I think there definitely needs to be more ability to move between the systems and to design the sort of education that meets your employment needs," she said.
On Monday, Labor is expected to announce 5000 fee-free TAFE places targeted at the digital economy, including IT and software development.
Labor digital economy spokesman Ed Husic said the Coalition had failed to address "crippling" skills shortages and Labor was "determed to make sure that we get Australians skilled up and ready for the jobs ahead".
SourceAAP:www.smh.com.au