Over the past few years, multiple examples have come to light highlighting the rorting of Australia's visa system by international students.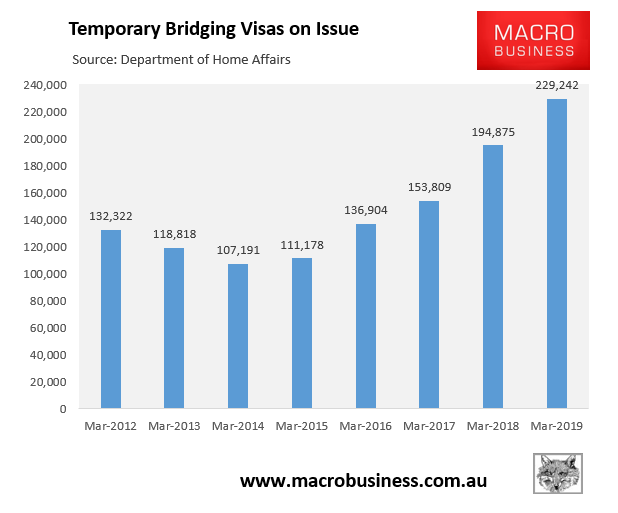 First, the surge in temporary bridging visas – from 107,191 in 2014 to 229,242 in 2019 – has been driven overwhelmingly by international students appealing their migration decisions en masse to the Administrative Appeals Tribunal (AAT) in a bid to extend their stays:
Victorian Liberal MP Jason Wood, the chair of the joint standing committee on migration, said the backlog of cases at the AAT was "outrageous" and argued that the appeals process was "working in favour of the visa holder and not necessarily the Australian taxpayer". He said foreign students could game the system to extend their stay by several years — an outcome which he said would deny Australian citizens more part time jobs.
Indeed, Chinese students drove an absurd 311% increase in asylum seeker claims, according to The ABC:
The number of Chinese nationals applying for refugee asylum in Australia has risen by 311 per cent in just one year, according to figures from the Department of Home Affairs…

Refugee Council of Australia director of policy Joyce Chia told the ABC the number of student visas had increased with the booming international student industry in Australia… Many claimants are arriving on temporary migrant visas such as international student visas…

Associate professor of law at Murdoch University Mary Anne Kenny said… "Once you are in the country, either as a tourist or a student, if you then apply for a protection visa, you are eligible for a bridging visa… It doesn't cost very much to make an application and you can then extend your period of stay here"…

Experts say the significant number of appealing applicants who do not show up to hearings raises further concerns that the process is being abused by fraudulent claims in a bid by some visa holders to extend their stay…

The average time the AAT took to decide migration cases was about a year, allowing students who had a visa cancelled or expired to extend their stay by appealing.

If unsuccessful they could then apply for a protection visa, which took an average time of about eight months to be decided…

Associate professor Anne Kenny said it was possible the number of false claims was rising because word was spreading among temporary visa arrivals of the success of others in lengthening their stay.
Second, regional migration schemes have been systemically reported, especially by international students from the Indian Sub-Continent.
For example, last year it was revealed that students from the Sub-Continent were using state-based migration programs in Tasmania and the ACT as a way to gain backdoor permanent residency into Sydney and Melbourne.
The rorting was endemic in the ACT, where large numbers of international students flooded into the Territory to study at private colleges for one year and gain permanent residency:
"When the subclass 190 visa popped up, the students started streaming in," Min Gurung, marketing and sales manager from JP International College, in Mawson said. The college experienced an increase of 300-400 students in the past year, with many students moving to the ACT with their partners and young families…

Unity College in Belconnen experienced an almost two-fold increase in its student numbers to about 50…

Some operators of the colleges are reluctant to speak out, with one reporting his institution had about 100 students before July last year. In the past year, that number grew to about 300 students…

It's believed up to eight colleges have opened in the past year and more applications could be in the works…
Yesterday, Fairfax reported more rorting, with international students fraudulently paying a foreigner for fabricated work histories and prerequisite English-language results in order to obtain the Cert III in Security:
Victoria Police sent suspension letters last week to about 400 guards working across the security industry over allegations that "false, forged and/or fraudulently obtained documentation" was used to obtain their security licences…

Industry sources say many of the guards were on international student visas… they are said to have paid hundreds of dollars to a man police are now trying to locate who allegedly helped them falsify applications… It is understood that person, who sources believe has since fled the country, now forms part of the police investigation…

"It's become a joke really. You've got registered training organisations churning out graduates who can't even use a radio, let alone defuse a dangerous situation.

"And a lot of the foreign blokes don't have any English [language skills], which makes it hard for them to deal with crowds," [a security insider] said.
None of this should be surprising. Cheating on English-language tests and university courses is widespread among international students. So rorting Australia's visa system is to be expected.
SourceAAP:www.macrobusiness.com.au