Despite the latest Department of Employment skills shortages report showing that Australian skills shortages "continue to be limited in 2016-17", and that there are a high number of applicants per job: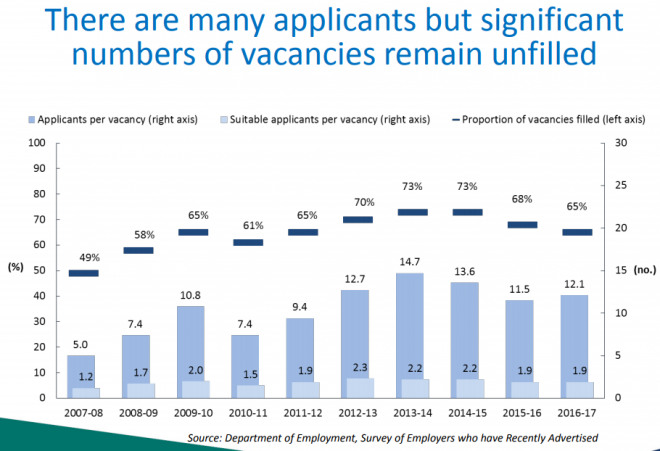 As well as a record number of Aussies studying at university: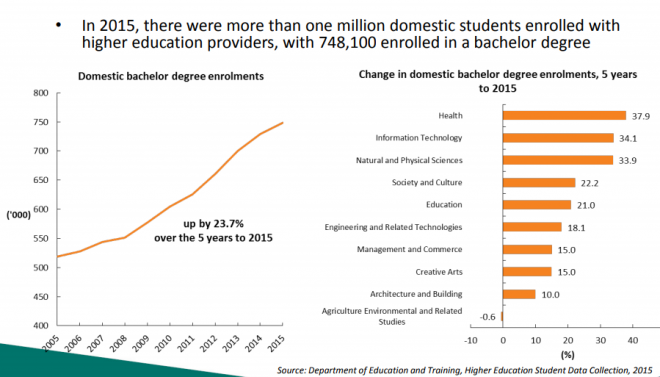 Of whom many graduates cannot gain meaningful employment: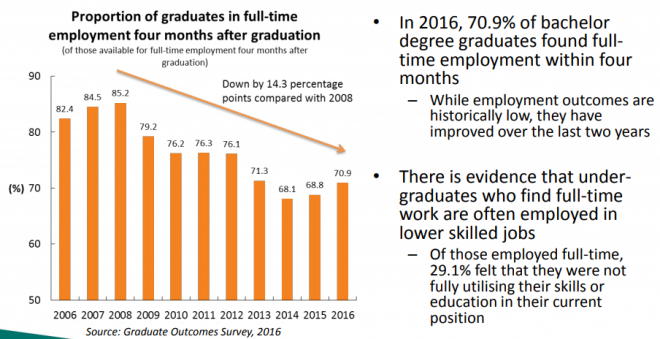 The Business Council of Australia (BCA) has warned that Australia is facing yet another "crippling skills shortage". From The ABC:
Almost 1 million jobs will be created in Australia over the next five years but there won't be enough skilled workers to fill them.

That's according to Business Council chief executive Jennifer Westacott, who says Australia faces a crippling skills shortage unless more funding is urgently returned to vocational education.

The Federal Department of Employment predicts almost half of those jobs created will require a vocational qualification.

The rapidly ageing population, construction of major infrastructure, a growing taste for eating out and the full rollout of the National Disability Insurance Scheme (NDIS) will drive many of the new jobs.

There are serious concerns funding cuts to the vocational education and training (VET) system have left it in no shape to meet that challenge.

Ms Westacott fears, "we will have to spend billions to put it back together".

"We'll have another skills shortage then we'll have another debate about bringing in foreign workers, or we will just lose new businesses and new activities to other countries where they have a more trained and skilled workforce," Ms Westacott told 7.30.

"This is urgent. Go and look at other countries, go and look at Germany, go and talk to any senior business person in the United States, particularly the people in the big technology companies, and they'll say to you it's the vocational system we should be focusing on now"…

The Business Council is calling for a dramatic shakeup that would put vocational education into a single tertiary system.
There is a kernel of truth in the BCA's concerns about the vocational education and training (VET) sector. The 2016 VET FEE-HELP Statistical Report showed a sharp drop in VET enrollments in 2016; albeit numbers remained high compared to recent history:

As shown above, most of these enrollments were in private colleges, which have been gripped by scandal.
In 2015 the federal government did introduce a number of reforms to the VET loan system. The reforms were designed to curb unsustainable growth and address unscrupulous behaviour, and resulted in the total amount of loans for 2016 almost halving, decreasing by more than $1.4 billion compared to 2015, from $2.92 billion to $1.47 billion.
Still, average course fees (and loans) for private VET providers remained well above that of public TAFEs in 2016:

Whereas completion rates were much lower:

The 2016-17 Department of Employment skills shortages report also showed that while skills shortages were low overall, conditions were tighter in the trades: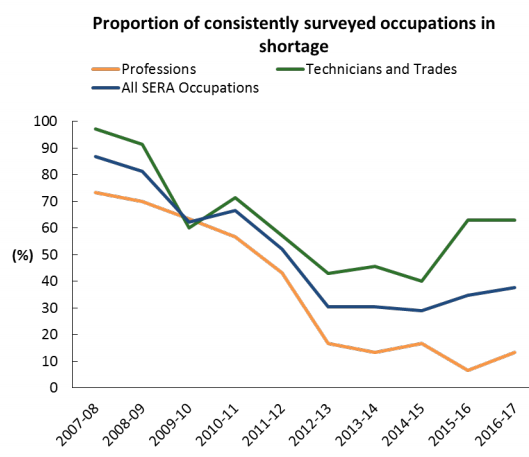 Because they are experiencing relatively few apprenticeship and trainee commencements and completions: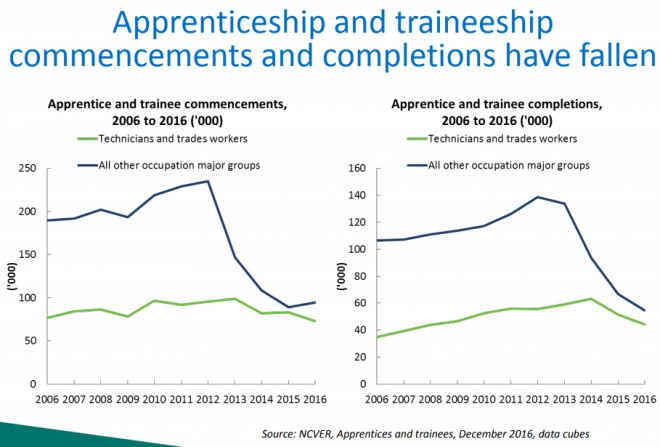 And that employment outcomes are much stronger than for university graduates: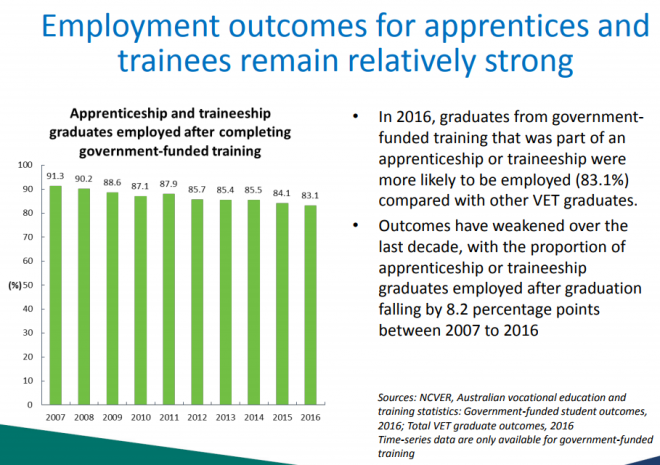 Overall, it is hard to take the BCA's 'cry wolf' claim that Australia is facing another round of "crippling skills shortages" seriously, especially when Australia's labour underutilisation remains at elevated levels and wages growth is stuck near historical lows.
It seems the BCA is not just lobbying the government for more employment training subsidies (rather than businesses training staff on-the-job, like they used to), but is also softening-up the government to further relax rules around importing foreign workers.