Earlier this week, the Herald-Sun reported that gangs have been targetting Chinese international students near Monash University, with 13 separate violent attacks at knifepoint reported over the past 18 days.
The assaults have prompted Federal Education Minister, Dan Tehan, to ask his Department to examine ways to ensure student safety in order to protect Australia's lucrative international student trade:
Mr Tehan said he was concerned about criminals targeting foreign students near Monash University and has now added physical safety as a priority in the development of the strategy.

"Particularly when we've got a sector that's worth $34 billion to our economy we have to make sure we're taking the necessary steps to keep international students safe," Mr Tehan told SBS News…

A spokesperson for Monash said student security was "paramount"…
Australia has been down this road before. Between 2008 and 2010, a series of violent attacks on Indian students — including the stabbing death of student Nitin Garg — created intense outrage on the subcontinent.
After Nitin Garg's murder in January 2010, India's foreign minister recommended parents boycott sending their children to study at Australian universities, causing Indian enrolments to drop sharply for several years.
As shown in the next chart from the Department of Education and Training, total international student enrolments fell 3.5% from 335,273 in 2010 to 323,612 in 2012, caused entirely by the fall in Indian students.

The stakes are much higher this time around. International student growth has been driven by China, whose numbers have surged from around 95,000 in 2015 to 150,000 as at 2018. Chinese students also accounted for around $11 billion of Australia's $32 billion in education export earnings in 2018: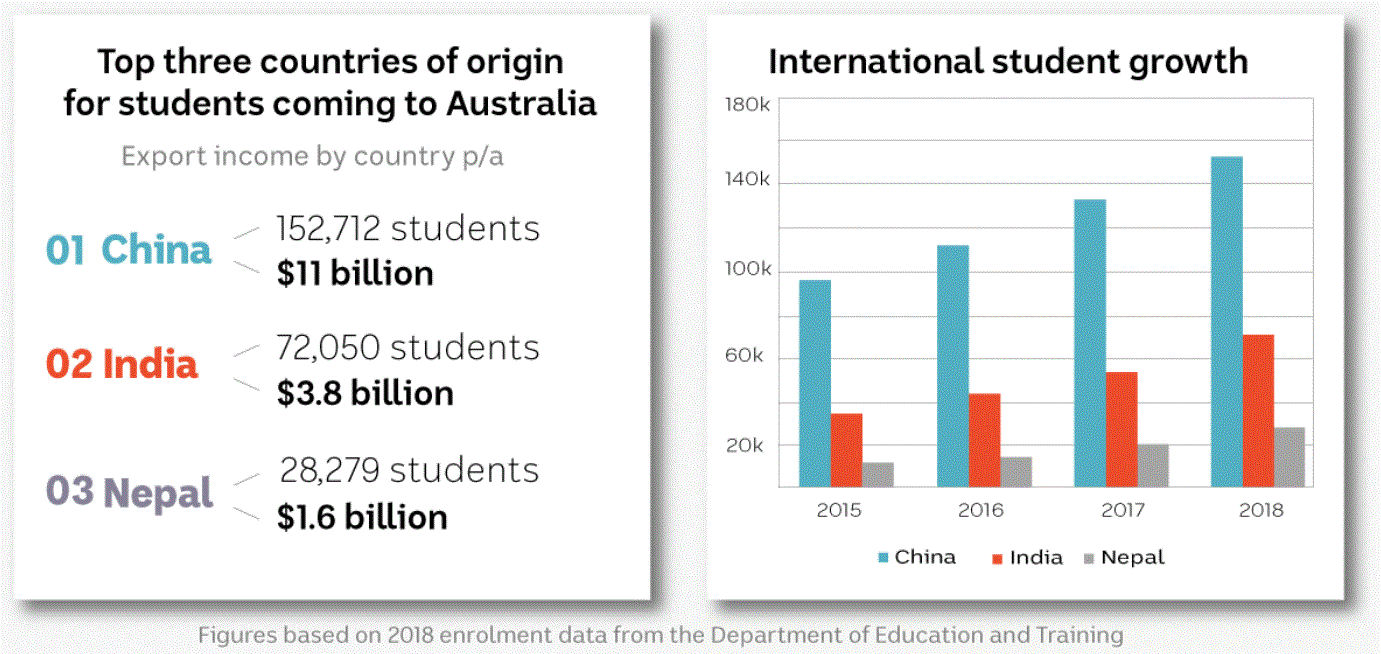 We have already received explicit warnings from a senior Department of Home Affairs official that "the highly lucrative six-year boom in Chinese students is over" – a view supported by the ABS' latest overseas arrivals and departures data, which shows that arrivals from China had fallen for nine consecutive months, and are back to August 2017 levels: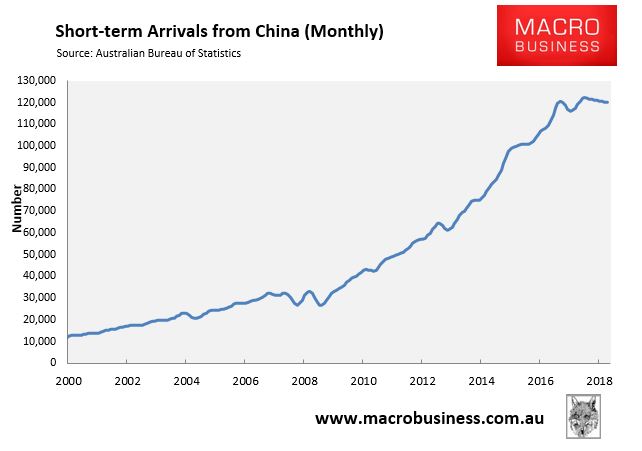 Political tensions between Australia and China are already fragile, and there is the risk that attacks on Chinese international students could lead to a similar backlash as displayed by India's Government in 2010.
Remember, unlike commodities, Australia has no natural advantage in university education, and is facing increasing competition from abroad. Perceived risks around safety, alongside existing concerns around education quality, could easily tip the competitive balance away from Australia and make it increasingly difficult for Australia to maintain Chinese student numbers and the financial benefits that comes with them.
SourceAAP:www.macrobusiness.com.au